Last week I took Stella for a special 3 month photo shoot with Nikki over at
Nikki Hoover Photography
(which we will affectionately refer to as NHP in all future discussions or posts :) ) I had wanted to surprise Brent with some special new pictures for his office for Father's Day, but cant decide which pictures to get, so I told him he could pick. We'll get them ordered and framed, and he can add some pictures of his beautiful daughter to all of the duck hunting and deer hunting photo's that line his wall at work.
So what do you think? Isn't she growing so fast!! She's so adorable! and when she wasn't looking at the camera she was flirting back and forth with Nikki's youngest son, Weston, who had the most adorable smile and flirty wave for Stella whenever Nikki was trying to get her attention.
and linking up with a couple of new Blog Hops for us! Welcome fellow hoppers!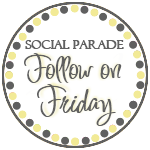 And if you love our blog, how about a vote?